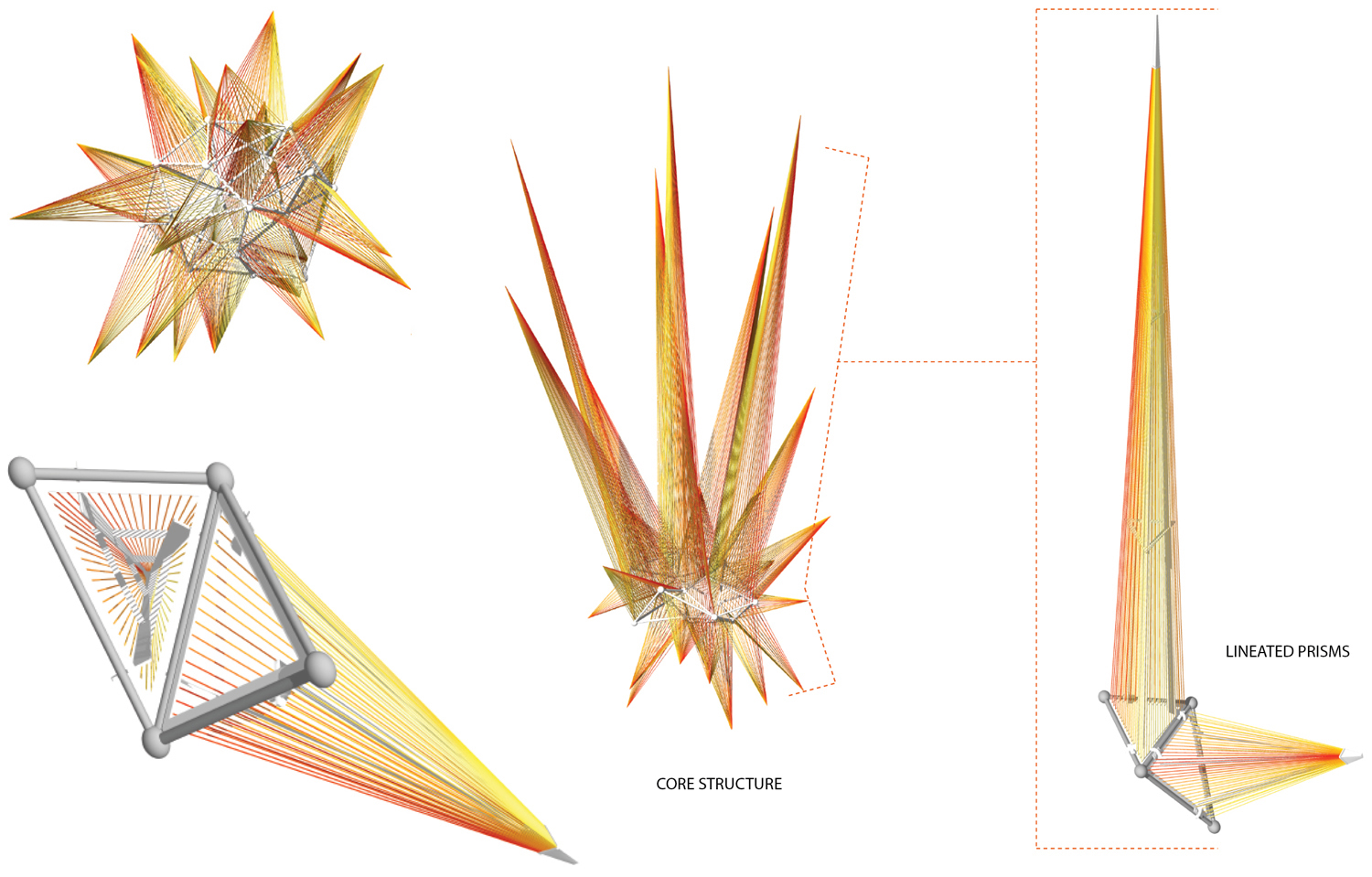 Cross Fertile
Completion: 2013, Finalist
Location: Oregon State University, Corvallis, OR
Description: Cross Fertile explores the visual expression of what it means to learn in community, to gain what philosopher John Dewey called the "enlarged and changed experience." In his 1916 classic Democracy and Education, Dewey described a process of "getting outside of [our lived experience], seeing it as another would see it, considering what points of contact it has with the life of another."
As artists, we are drawn to data visualization, the use of imagery to communicate relationships across a variety of technological and scientific disciplines. For example, data visualization can reveal social media networks or patterns of scientific collaboration between researchers. We find this imagery compelling because it reveals the process of cross-fertilization: the points of interchange and interaction that transform us through contact across ideas, cultures, and categories.
Cross Fertile is a dynamic composition of tensioned nylon chords, suspended in the atrium space. The vibrant, colorful gradients evoke a dynamic starburst suspended in time and motion. The sculpture is abstract, but the visual complexity of tensioned chords evokes an intricate network that speaks to the Student Experience Center as a social and knowledge center. The use of suspension and tension gives a palpable sense of emergence and the physical forces that define the work of art.
Cross Fertile engages the architecture of the SEC, suspended within the contemporary atrium space. As viewers move around the atrium space, they see interesting moiré effects and color changes as different gradients of chords pass in front of one another. The piece is both monumental and imbued with a sense of lightness; viewers can look through the sculpture to see people on the other side of the atrium space. The composition of chords also allow illumination to infuse the sculpture, creating interesting patterns of light.
The design serves as a thematic anchor for the Student Experience Center, as a center for cross-disciplinary research, creativity, and discovery. This project would be natural extension of our previous work, which often uses generative techniques and innovative materials to create new narratives in visual storytelling. This convergence of art, technology, and data visualization recognizes the interdisciplinary relationships being cultivated at the Student Experience Center. As a landmark piece, Cross Fertile embodies the interactions across social and cultural boundaries that the SEC cultivates, yielding an enlarged and changed experience for the student body.
Architect: METALAB